Voltor™ is an industrial IoT sensor that detects fluctuations and imbalances between voltage, current, and power in real-time. It monitors critical points such as LT distribution transformers, LT network pillars, and junction boxes, and ensures a reliable power supply.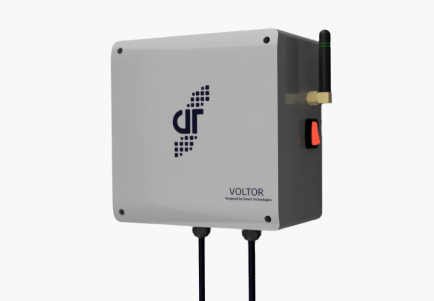 Smart Sensor
Industrial IoT with OTA firmware updates
Compact
Weighs 700 grams and can be deployed in tight spaces
Secure
Acquired data is encrypted on an HTTPS connection
Wireless
Stay connected with up to 5 hours of battery backup

Easy to install
Works for single-phase and 3-phase power supply
Local storage
With an upload frequency of 1 Hz
Maximize uptime and operational efficiency
Voltor™ identifies fluctuations in real-time and sends instant notifications to managers on a cloud-based IoT platform. It is designed to continuously monitor voltage, current, and power supply.
Detect faults and outages and get notified with asset details and fault location attributes for quick resolution

Track the reliability and availability of low-tension networks and assets

Download daily, weekly, or monthly reports with period voltage fluctuations and supply trends
Get valuable insights and reduce outages by 25%
Keep track of voltage, current, and power fluctuations and predict fault and outages effortlessly. Improve customer satisfaction with Voltor™.
Identify power event patterns to avoid future outages

Find new opportunities for power efficiency enhancements

Make informed decisions and improve performance with the right data
Monitor voltage, current, and power in real-time
Get instant notifications on any fluctuations and outages, and maximize uptime and operational efficiency with Voltor™