Completely automate
confined space watch
Engage technology that provides 360 degree monitoring by integrating cameras, speakers/hooters, remote alarms, people counting, skill and person identification and gas and temperature sensors
Maintain Automated Entry/Exit event logs with smart rules from a centralized platform

 

Remote supervision from any approved device

 

Reduced human exposure on site by maintaining remote stations for implementing compliance.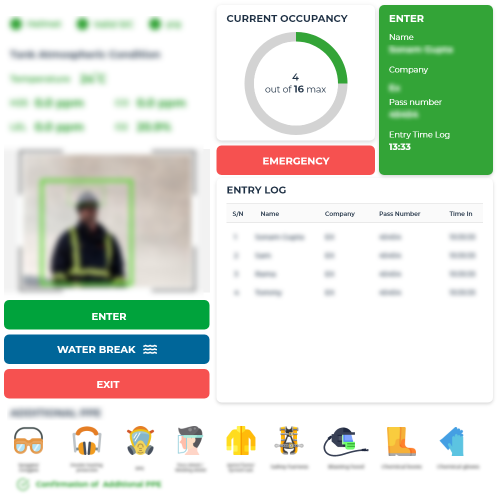 Automate comprehensive safety guidelines
Leverage a centralized web–based reporting platform to access processed results on safety guideline compliance and conditions of all mapped risk areas. T-Pulse provides an integrated view as well as zone/unit–level views, with pre-configured filters for easy search and discovery. 
Real time alerts on safety events

 

Comprehensive coverage of all safety categories as per standards

 

Prevent incidents and run pro-active programs through virtual eyes and intelligence inside confined space.

 

Risk categorization for all events for actionable insights.

 
Optimize productivity and efficiency management
Benefit from a smart planning tool to both plan and measure the total man hours spent inside confined space and help keep your project always on track 
Maintain anonymous count of people inside confined space at all time

 

Take faster decisions to maintain or accelerate projects as per organizational need

 

Get real time trends and insights on a remote platform across any approved device

 
Manage your plant risks with completely automated access authorization
Comply to all guidelines and generate real–time reports on all risk areas within your plant or project.