Automate Workplace safety using HSSE Module
Carefully designed to leverage large source of visual data, HSSE Module ingests data from various visual sources to detect non-compliance in workplace safety, thereby assisting stakeholders working in highly pressurized environments to undertake corrective actions on the go. 
Reduce manual efforts for data acquisition and processing to zero.

 

Take a step to achieve zero incidences on site through pro-active actions on all detected events.

 

Smartly implement all comprehensive safety guidelines in a high intensity environment.

 

Strategize systematic improvement to achieve organizational HSSE goals through deep analytics.

 
Generate reliable insights on progress through Schedule Control module
Leverage pre-trained deep learning AI models over visual data to track progress of each milestone. Get unbiased and near real-time data to Project managers, enabling them to undertake timely interventions to reduce delays to overall project. 
Get exact time for task start and completion, gain/delay, S-Curve, and much more for project/ processes in operation

 

Flag issues and resolve them with real-time visibility through our Issue module.

 

Optimize overall project schedule to reduce slack and thereby improve productivity

 

Digitally track complete shutdown, turnaround, and outage (STO) in process units from planning to execution.

 
Keep track of occupancy in predefined

areas using Occupancy module
Maintain the real-time total count with state-of-the-art computer vision algorithms. Occupancy module feeds data from fixed cameras into a centra AI data lake, generating virtual fencing across the site, and automating occupancy management to minimize risk at site.
Anonymously count and smartly plan workforce to a threshold within a predefined area

 

Manage risks within a controlled area on a running plant, offshore platforms, or an industrial project

 

Create intuitive dashboards, custom analytics, and emergency evacuation plans with occupancy module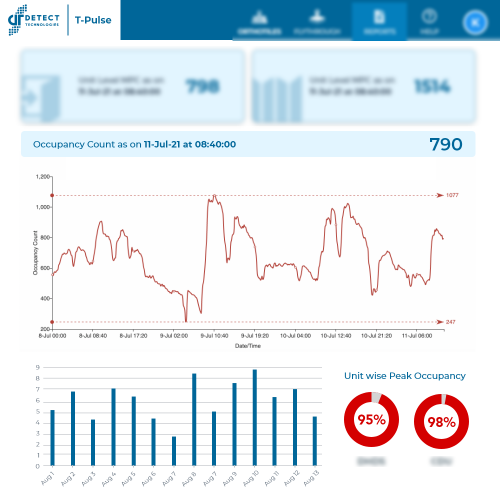 Track inventory and resources from all vendor partners using Vendor Inventory Management System
Monitor planned vs actual resources mobilized at site, using a smart platform. Track all documents at site through QR codes and approve/reject inventory upon verification at site.  
Leverage collaborative tracking of equipment, machinery, tools, and tackles etc.

 

Access all important data at site through any approved device

 

Centrally visualize and track all inventory available at site.

 
Reduce inspection time with fast processing, visualization, reporting, observations, and recommendations with Inspection Module
Generate fast observations using inspection module that runs on both images and video data being processed through computer vision and deep learning algorithms to automate detections. Get comprehensive list of observations and recommendations in a short span of time.  
Leverage deep learning to get high potential anomalies on critical assets

 
Monitor your activity progress and optimize schedule control
Optimize the schedule of complete projects and make reliable real-time decisions to
maximize overall productivity using T-Pulse™.