Introducing Noctua-Orbiz™
Noctua-Orbiz™ is an interactive web-based solution, built to visualize and analyze long-range asset data such as interstate pipelines and transmission lines. Data is acquired through drones, fixed cameras, satellites, and other means. Noctua-Orbiz™ also brings the full-functionality of GIS mapping on a fast, web-based interactive platform. Enterprises don't need to install or set up a new IT infrastructure anymore; Noctua-Orbiz™ manages everything from data handling to visualization, with industrial AI and machine learning.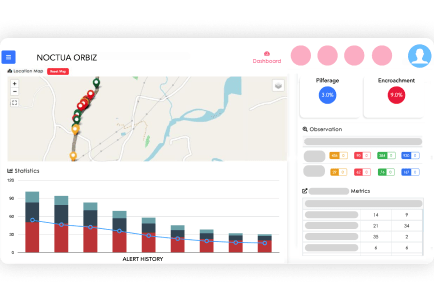 Cloud-enabled
View all locations on a single cloud-based web dashboard

Data analysis
Combines historical data to identify trends accurately

2D Flythrough
Audit assets effortlessly by virtually walking through locations
Manage large assets remotely, identify problems, and monitor change
Large assets range from thousands of kilometers and are tedious to manage, but not anymore. With Noctua-Orbiz™, do a digital audit of your large assets seamlessly.
Acquire data from multiple sources – fixed cameras, UAV, or satellite

Get real-time locations and asset observations and identify ones that need repair

Track asset degradation, security concerns, pilferage, encroachment, and more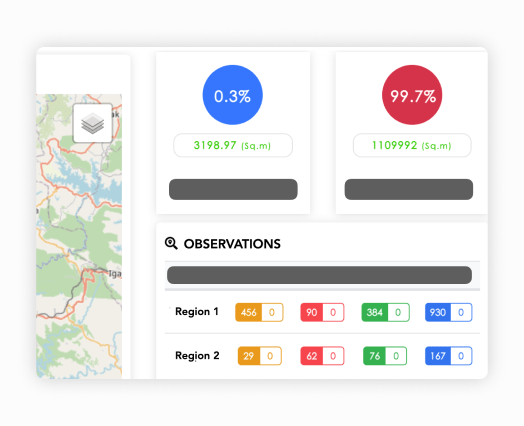 Get actionable insights and track recommendations efficiently
Make informed decisions with intelligent mapping and analytics provided by Noctua-Orbiz™. Recommendations and the next best actions are highlighted on the platform for closure.
Align actions better and assign them to relevant people

Send emails about specific location details and deadlines where inspection or maintenance is require

Ensure escalations are made when there are delays
Continually improve industrial productivity with
GIS mapping
Manage long-range assets using Noctua-Orbiz™ – an end-to-end GIS mapping platform