GUMPS™ or Guided Ultrasonic Monitoring of Pipe Systems is the first of its kind fully automated and permanently installed guided wave LRUT sensor. It is engineered for pipeline health and integrity monitoring in real-time and designed to work at extreme temperatures. Researched for more than 8 years, GUMPS™ generates continuous, real-time corrosion insights over long-range pipelines.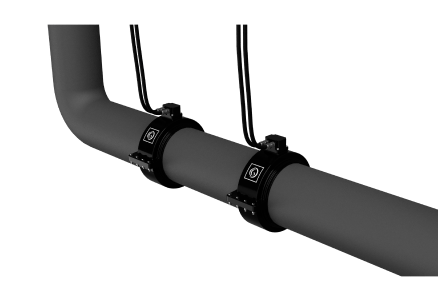 Smart Sensor
Industrial IoT with cloud analysis. Designed for scale.
Weatherproof
IP 66 Rating. Protected against powerful water jets
Temperature range
Operates in – 30° to 200° C (- 22° to 392° F)
Ex Certified
ATEX (up till 120° C), IECEx, and PESO certifications
Scalable hardware
Multi-system architecture, with single pulser for multiple sensors
Enterprise software
An intuitive real-time dashboard to unify monitoring
Detect pipeline corrosion rates in high temperature and improve pipeline integrity
GUMPS™ is designed to continuously monitor pipeline corrosion and corrosion rates and reduce industrial downtime.
Continuously monitor internal and external pipe surfaces

Identify the location and degree of potential pipeline corrosion in real-time

Eliminate potentially hazardous leaks proactively
Predict future outcomes and uncover pipeline risks in advance with predictive analytics
GUMPS™ uses historical data combined with data models and machine learning algorithms, to identify potential risks in your piping systems.
Pinpoint potential leaks, corrosions, and faults in pipeline infrastructure quickly

Plan the pipeline integrity management strategy better

Prevent incidents before they occur and extend the lifetime of your pipe systems
Get a holistic picture of pipeline health with 3D models
Move beyond real-time corrosion monitoring and see how defects and corrosion areas grow in your pipeline facilities with 3D models.
Access accurate and consistent data

Get alerts on potential pipeline failures in advance

Make autonomous decisions with the right information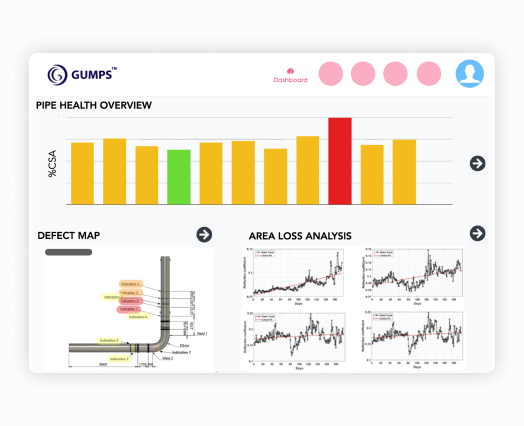 Oil and Gas downstream unit increased the life of their pipelines with GUMPS
Protect your pipelines from corrosion
and leaks today
Increase the life cycle of your pipelines. Continuously monitor pipeline integrity at high temperatures with GUMPS™
Some frequently asked questions