An enterprise AI software solution designed to optimize the performance of your assets. Noctua.AI™ is an asset performance management solution that enables users to calculate plant performance effortlessly with industrial AI.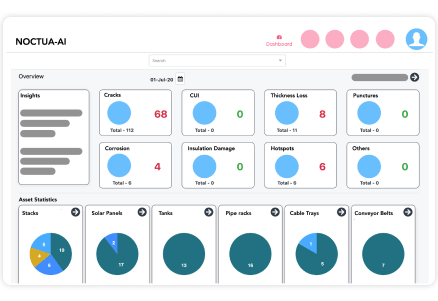 Automated data acquisition
Combines visual, thermal, UT, electrical and other process parameters

Fully remote
Linked with any robotic, UAV, and asset data sources
OEM-agnostic
Manage different industrial assets on one platform
Fault detection
Predict faults and anomalies with machine learning

Predictive maintenance
Get actionable insights for higher industrial productivity
Enhanced reporting
Get AI-based accurate data and quick reports
Optimize asset inspection and avoid unplanned outages
Move from traditional and manual inspections to condition-based predictive maintenance. Monitor your assets in real-time with Noctua.AI™
Get insights into asset performance in real-time

Identify anomalies in time and avoid unplanned outages

Extend asset life cycle in a predictable manner
Improve asset performance and productivity
Achieve your asset performance objectives. Noctua.AI™ can be configured with optimum metrics to meet the desired operation requirement.
Plan asset maintenance based on criticality and cost

Predict when asset degradation or failure might occur

Optimize asset for maximum asset yield

Minimize corrosion, power loss, inefficient energy transfer, or heat rate
Reduce turnaround time for decision making
Identify anomalies and deviations with Noctua.AI™. Track location, operational exposure, and maintenance history of critical components, and plan enterprise maintenance activities more strategically.
Access accurate and consistent data

Coordinate system-wide outages, and spare parts scheduling and forecasting

Make data-backed capital management decisions
Automate inspection of all industrial
assets with Noctua.AI™
Manage the performance of your
assets in real-time
Get real-time asset performance data and manage risks to reduce unplanned downtime with Noctua.AI™.
Some frequently asked questions
Currently, Noctua.AI™ can acquire data from over 10 sources, but it can be configured to handle more. The primary data sources that it ingests to ascertain equipment health are visual, thermal, and ultrasonic thickness on static assets, voltage and current for electrical assets, and vibration for rotary assets.
No. Noctua.AI™ is a SaaS software, i.e., it is a subscription-based software with annual, quarterly, and monthly subscription plans. Please contact sales
to learn more about the pricing.
Noctua.AI™ is a cloud-based solution accessible from a web browser. It comes with several layers of encryption to make all the data secure. The entire data can be hosted on-premises or on the cloud, as per requirement.