An enterprise AI software solution designed to optimize the performance of your assets. Noctua.AI is high precision deep learning platform that enables users to process and visualize effortlessly visual, thermal, and time-series data with risk categorization to mitigate asset downtime risk.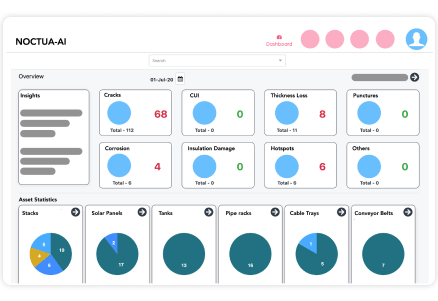 Seamless data integration
APIs to easily integrate visual, thermal, time-series data from cameras, UAVs, DCS, IoT sensors and other devices 

Fully remote
Access completely processed data from anywhere on any authorized device through a highly secure cloud architecture
OEM-agnostic
Integrate and analyze data without worrying about OEM hardware compatibility through a comprehensive integration tool. 
Fault detection
Prevent equipment downtime through timely actions on all critical observations. 

Predictive maintenance
Record and track actions planned and taken for maintenance to reduce overall risk to process unit. 
Battle-tested

Data Management Platform
Web-based platform for logging events and actions taken and the overall risk. Plan and reduce risks objectively. 
Implement comprehensive deep-learning models trained specifically for meeting global inspection standards
Automate and visualize the processed quality outputs as that of traditional manual reports through experienced engineers by leveraging globally tested deep learning models in Noctua.AI
Get component and section wise analysis of your assets

 

Identify anomalies in all categories and find the most frequent damage mechanism

 

Benefit from the risk categorization on each observation for actionable insights.

 
Integrate easily with variety of data sources
Leverage APIs to integrate with all types and forms of data sources from your asset to discover important and actionable insights. 
Increase RoI from your existing infrastructure by making it intelligent

 

Make your devices virtual inspectors and maximize their yield

 

Unify all data on a single platform for easy visualization and analysis

 

Accelerate digital transformation through seamless application layer for new and existing models.

 
Accelerate decision making through easy to navigate web platform
Identify all observations on assets with a unified 3D interface on Noctua.AI. Track location, operational exposure, and maintenance history of critical components, and plan enterprise maintenance activities more strategically.  
Access accurate and consistent asset data

 

Coordinate system-wide outages, and spare parts scheduling and forecasting

 

Make data-backed capital management decisions

 
Automate

processing, data management and visualization

of all industrial assets with

Noctua.AI
Iron and steel industry manages asset performance and inspection with Noctua.AI

Intelligent Inspection of Transmission Lines & EHV Towers with Noctua.AI


Manage the performance of your assets in real-time
Get real-time asset performance data and manage risks to reduce unplanned downtime with Noctua.AI.  
Some frequently asked questions
Currently, Noctua.AI can acquire data from over 10 sources, but it can be configured to handle more. The primary data sources that it ingests to ascertain equipment health are – visual, thermal, and ultrasonic thickness on static assets, voltage and current for electrical assets, and vibration for rotary assets. 
No. Noctua.AI is a SaaS software, i.e., it is a subscription-based software with annual, quarterly, and monthly subscription plans. Please contact sales to learn more about the pricing.
Noctua.AI is a cloud-based solution accessible from a web browser. It comes with several layers of encryption to make all the data secure. The entire data can be hosted on-premises or on the cloud, as per requirement.